Top 7 tips for a warm winter home without blowing the energy bill
Top 7 tips for a warm winter home without blowing the energy bill

Home comfort tips
Don't let the winter chill turn your home from a comfortable sanctuary to a draughty fridge, leaving you wishing for warmer days and sunshine.
As quickly as day turns to night in the colder season, winter creeps up on us and we find ourselves cranking up the heat, wrapped up in electric blankets and thick, woolly jumpers. So, what can you do to prepare for the drop in temperature? Here are our tips for keeping your home comfortable in winter without upping your energy bill.
1

Use heavy curtains on your windows

Did you know up to 40% of the heat escaping your home in cooler temperatures is purely from not covering your windows? The most significant air leaks tend to occur around windows. By investing in heavy drapes or curtains, you can ensure your windows will have extra insulation, keeping the warmth from escaping your home.
2

Change your ceiling fan settings

Many people assume ceiling fans are only for cooling in warm months, but they can be your best friend in winter too. During the summer months, your ceiling fan blades turn in a counter clockwise motion and use what's known as the wind chill factor to keep you cooler.

However, in winter, you'll want to find the reverse switch on your fan to change things up. As warm air generated by your heating system naturally rises to the ceiling, and cooler air sinks, your ceiling fan will push the warm air back down to a comfortable level. To locate your reverse switch, look on your fan above or below the blades, or check the manual from your fan manufacturer.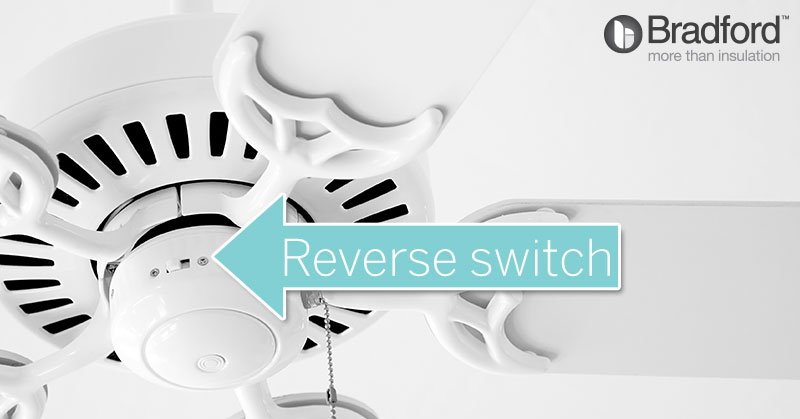 Locating your fan's reverse switch
3

Seal cracks and gaps

Unsealed cracks can account for approximately 15-25% of heat loss in your home throughout winter. These let unwanted cool air enter your home, and any attempts to warm it up will essentially 'slip through the cracks'. By sealing gaps in your windows and door frames, you'll keep nasty drafts at bay and seal in the warmth – making your home nice and cosy!

Consider investing in a door snake to keep the cold air from coming under your doors. If you're handy, check out this video from Bunnings on how to seal your windows.
4

Insulation

David says

My older style house has polished floor boards with many large gaps that would let the breeze through. The under floor insulation has sealed all the gaps and keeps my house significantly warmer in winter.

A well-insulated house can use as much as 45% less energy for heating and cooling.

If you have raised timber floors, install Optimo Underfloor Insulation by Bradford, which provides a barrier to reduce heat loss and cold draughts entering through your flooring. As a bonus, it reduces the noise of floorboards and can even lessen noise transfer from different rooms.

Additionally, you could invest in a higher grade insulation in your ceiling, which also acts as a barrier to the heat flow of your home. Not only will these products seal in warmth in the winter, when summer rolls around they will keep your home nice and cool too! If you have existing glasswool insulation, you can even top up. Contact us for a free quote.
5

Cover your walls

Your walls can be big contributors to losing heat in the winter, but there's a simple trick to lock in some of that heat. You can significantly reduce energy loss by covering your walls with picture frames, a mirror or even a large book shelf. By adding an extra layer of thermal mass to insulate, you can raise internal surface temperatures by around 1°C.
6

Re-position your furniture

Understanding how heat moves and investigating the thermal properties of your house will help you brave the cold this winter. You will feel warmer if you position yourself and your furniture near warmer areas of the home, including closer to the inside of the house and away from cooler external walls. Try to place your furniture next to an internal wall or a spot that gets a lot of natural light and heat from the sun.
7

Let the sun in during the day

When sunlight enters your home, it is mostly ultraviolet radiation, which transfers easily through glass. Once it hits an object the sunlight becomes radiant heat. To capitalise on all this free energy and gain extra warmth, open your blinds and curtains during the day and let that natural heat wash over you. Don't forget to shut your winter-weight curtains when the sun sets to keep that warmth in.

There are so many little ways you can save on energy costs and keep warm this winter. Don't forget simple things like investing in warm socks and using extra bedding at night. There's nothing nicer than making a cup of tea and getting toasty on the couch!
References: