The Block veterans living in comfort in their gorgeous beach house
The Block veterans living in comfort in their gorgeous beach house
Home comfort story
Bradford partnered with Kyal & Kara to renovate a dated "brick box" house into a beautiful family home. DIY install shows how easy it is to choose comfort.
Veterans of Channel Nine's "The Block" and "Reno Rumble", Kyal & Kara are the hands-on renovation champions. Together since their teens, this carpenter & physio are very comfortable getting dirty & doing it themselves. So when we partnered with them on their Toowoon Bay beach house renovation, we were very keen to see what they thought of not just living with Bradford Insulation, but installing it.
Bradford supplied a full range of insulation to Kyal & Kara, including SoundScreen acoustic insulation for the walls, Anticon foil-faced insulation blanket for under the metal roof, Bradford Gold for the ceilings and walls, and Optimo underfloor insulation under the studio's raised wooden floors.
Kyal says
It was really easy to work with Bradford insulation. Bradford are a partner with the National Asthma Council, which is a big benefit to the guys who are installing the batts. With the new products from Bradford, installation is much more enjoyable and you get the work done faster because it's not so scratchy.
But not just the installer that benefits with Bradford's range, it's the homeowner because you don't have the dust particles floating around and triggering asthma-related situations. If the homeowner has to get up inside the roof, it's much easier.
As far as living in the dwelling, it's a massive benefit and saving. We don't have to have the heaters or aircon on as much - you put it on to take the bite out, and then it stays cooler or warmer for longer.
Transforming the beach house on NSW's Central Coast from a dated brick box to a modern, fresh, comfortable family home was a fascinating journey which we were happy to share with them. The end result must be seen to be believed, and in fact, you can do just that by checking out their 2 bedroom studio via AirBnb – who wouldn't want a weekend away in this comfortable, stylish and beautifully located holiday home!
Keeping their timber floors warm and quiet with Optimo
Optimo underfloor insulation was installed in the guest house for its thermal and energy saving benefits. The underfloor insulation has helped to keep the studio warmer in winter as it provides a barrier to reduce heat loss and cold draughts entering through the flooring. In turn, Optimo reduces energy costs as it retains heat so heaters and air conditioners can run on lower settings. Optimo also reduces floor reverberation, creating a more solid timber feel.
Controlling noise and temperature under their ColorBond metal roof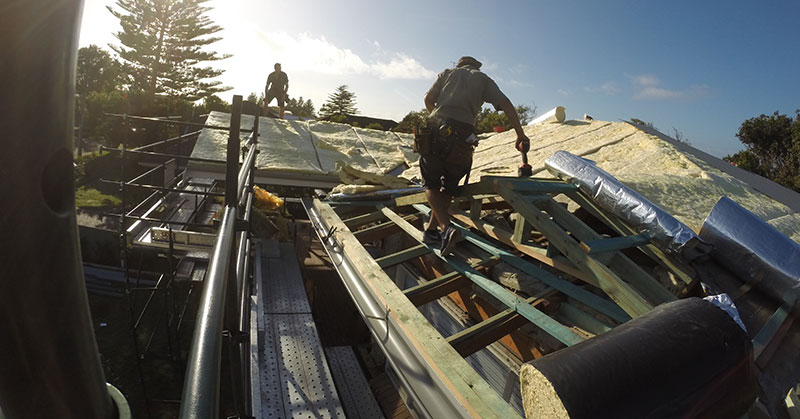 It's not a beach house without the patter of rain on the metal roof – but nobody wants that to be too noisy, especially when you've got a baby on the way and sleep is precious. Under the Colorbond "Windspray" roof, Kyal & his mates rolled out Bradford's Anticon, a foil-faced glasswool insulation blanket specifically designed for temperature & noise control in homes with metal roofs. Anticon can help reduce unwanted noise from heavy rain and other sources by up 13dB, as well as providing an added layer of thermal control.
Living a comfortable, quiet life with wall and ceiling insulation
SoundScreen acoustic insulation was used in the internal walls to reduce noise transfer between rooms, which was especially important for the expecting parents, in addition to thermal control. Additionally, Bradford Gold ceiling and wall batts were used to insulate the ceiling cavity in the house and the external walls in the studio.
Watch: Episode 4, with the roof installation over Anticon
Coming soon – Long Jetty reno
Look out for Kyal and Kara's latest reno at Long Jetty that will yet again be utilising Bradford Gold wall and ceiling batts, SoundScreen acoustic insulation, Thermoseal Wall Wrap and Anticon roofing blanket.
More information:
This spacious beachside family home also features other CSR products, including:
Check out the entire Toowoon Bay Project and Kyal & Kara's other inspiring reno projects here.