Don't sacrifice comfort and safety in your shed or outdoor building
Don't sacrifice comfort & safety in your shed or outdoor building

Home comfort tips
Whether it's a backyard workshop, a man cave, a studio or a potting shed, you can keep your space comfortable & safe with the right insulation & vent.
The list of uses for a shed in Australia is as long as a hot summer day. From industrial workshops to home studios, games rooms to farm sheds, Aussies love a good shed. They're flexible, long-lasting and relatively inexpensive. However, the great Australian shed can also be a hothouse in summer and freezing cold in winter, and dark all year round. And these extremes of temperature in your shed can cause a lot of damage to your tools, boat, computers, art supplies or treasured man-cave accessories.
Don't forget your reflective insulation!
If you want to keep your shed well-lit and comfortable, and the valuables in it safe, you need to consider insulating it when you build it, as well as adding ventilation during build or after.
Things to consider when building your shed
A shed lasts a long time and in that time, it can have many different uses. So when you're building a shed, consider the following to future-proof it:
What valuables will your shed be storing?
If any of them are heat-sensitive, then reflective insulation is a must – that metal roof looks great but it's also an excellent conductor of heat. Bradford Polyair Unicell has special anti-glare properties that can reflect up to 95% of the sun's radiant heat but you only get one chance to install it. Put Polyair Unicell in your walls and roof while building to keep your shed comfortable year round.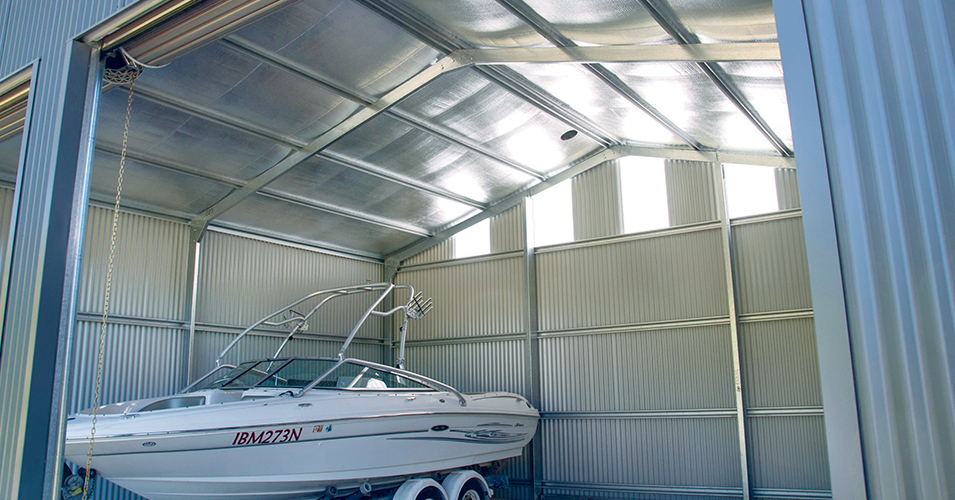 Protect your valuables with Polyair Unicell
Is your home in a bushfire-rated area?
Being in the backyard or paddock, a shed is often the building most at risk during a fire. Make sure that your shed is insulated in walls and ceilings with BAL-rated insulation like Bradford Polyair to comply with local regulations.
Will you need more natural light?
Good light is often crucial for a shed so you can see what you're doing. If you don't want to be running electrical light all the time, an Edmonds TurboBeam is your answer. A wind-driven ventilator with a clear acrylic head, TurboBeam will both ventilate your shed to let out hot air, and let in free natural sunlight, improving your ability to see your latest project in all its glory. As a bonus, the non-stop natural light will help deter the nasties from making your shed their home. TurboBeam can be easily retrofitted if not installed at the time of construction.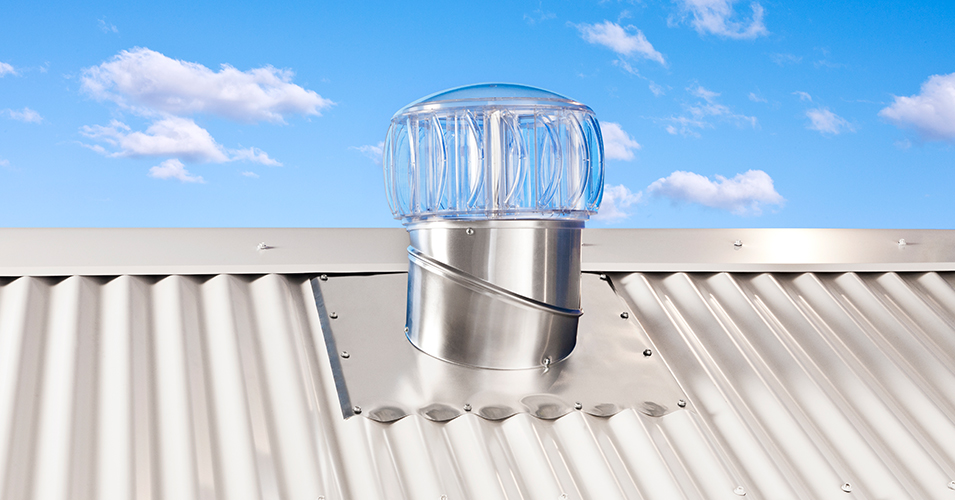 Add a TurboBeam for more sunlight and fresh air!
Is your roof flat, tilted or pitched?
A roof with a less than 10% angle is much more at risk from being breached by built-up rainwater. But any roof can be the victim of strong wind-driven rain through an overlooked hole and it only takes a tiny hole for your shed to be flooded in a bad storm. Bradford Polyair insulation was tested to Australian standards for water barrier and passed with a "high" mark. Don't take the risk, get an extra layer of protection for your shed with Bradford Polyair.
Remember, it's important to consider installing insulation as part of your build. Trying to fit insulation into a shed after it's built will be very complex and costly.
From the suburban backyard workshop to the rural outbuilding, the great Australian shed plays a vital role in our day-to-day lives. Enjoy your shed with Bradford's insulation and ventilation innovations.