The common construction issue that can be detrimental to the performance of your ceiling insulation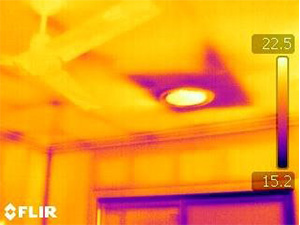 During the construction of new homes, one commonly overlooked insulation issue can have a major impact on thermal performance if left unaddressed.
Insulation acts as a thermal barrier to keep the inside of a home comfortable as outside temperatures change. In new builds, ceiling insulation is usually completed before other trades start work in the roof space. When other trades subsequently enter the roof, they will often move ceiling batts around to install services. If those batts are not put back into place and gaps are left behind, the thermal barrier will have significantly reduced capacity to retain heat, as shown in the example below.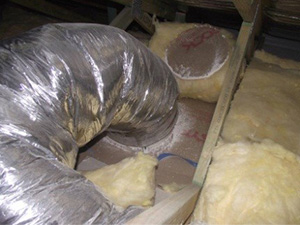 Insulation removed by air conditioner tradesman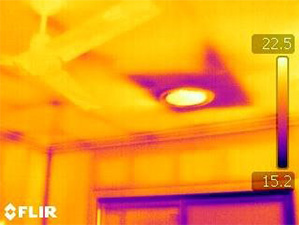 Thermal image shows insulation batts removed
In this scenario, an air conditioning tradesman removed a ceiling batt to install an AC duct, but did not reseal the thermal barrier afterwards by fitting the batt around the duct. They would first need to cut a circle in the batt the same diameter as the duct, then put the batt in place and ensure there are no gaps in the insulation.
To prevent thermal performance issues like this, it is essential that trades working in the roof space are given clear instructions about handling insulation and are supervised during the process. Briefings should state the objectives of achieving thermal performance and highlight common errors such as the one outlined here.
ICANZ (Insulation Council of Australia & New Zealand) offers free training videos to equip professional installers and other trades with basic knowledge of insulation. This training covers the basics of installation and thermal performance, and also complies with National Construction Code energy efficiency requirements.
To access the training tool via desktop click here
To access the training via the App follow these steps:
Search "QIN CodeSafe App" from your app store

Open the app and sign up
Tap the camera icon in the top right corner and hold your phone over the follow QR code to access the ICANZ training tool: