Dark walls, dark roofs – take care with this hot industrial style
Dark walls, dark roofs – take care with this hot industrial style

Home comfort tips
Urban industrial style is a hot house design trend, but it can give you headaches if you don't insulate it right. Understand the issue before you build.
One of the current trends for external colour selection currently seen on shows like The Block and in home magazines around Australia is a combination of dark metal or tiled roofs and dark walls covered with weatherboard or bricks, often combined with cathedral ceilings to give a feeling of space and air.
Fitting into either the Scandi, Urban Industrial or Urban Contemporary look, this signature look uses minimal colour palettes and architectural shapes to create impact, and is popular particularly with second storey additions or whole house renovations.
But there's a dark side to this modern design trend which can trap the unwary, and cause a lot of headaches after the build when it's too late to address the problem. It's called thermal bridging.
What is "thermal bridging"?
Thermal bridging is when a connection is created between a heat-conducting external element and the interior elements of the building.
We all know the difference between wearing a black vs white shirt on a hot day, and the same effect happens to your home when you have dark walls and dark roofing materials. Dark materials absorb more heat than paler ones, and that heat can be transferred into your home via the timber or metal framing.
This thermal bridge can have a big impact on the effectiveness of your insulation – up to a 50% reduction in the case of a steel frame, and up to a 30% reduction for timber frames. That's a major problem in hot weather which make your chic new extension feel like an oven after a hot day, forcing you to spend a lot of money on expensive cooling systems.
What's the solution for my walls?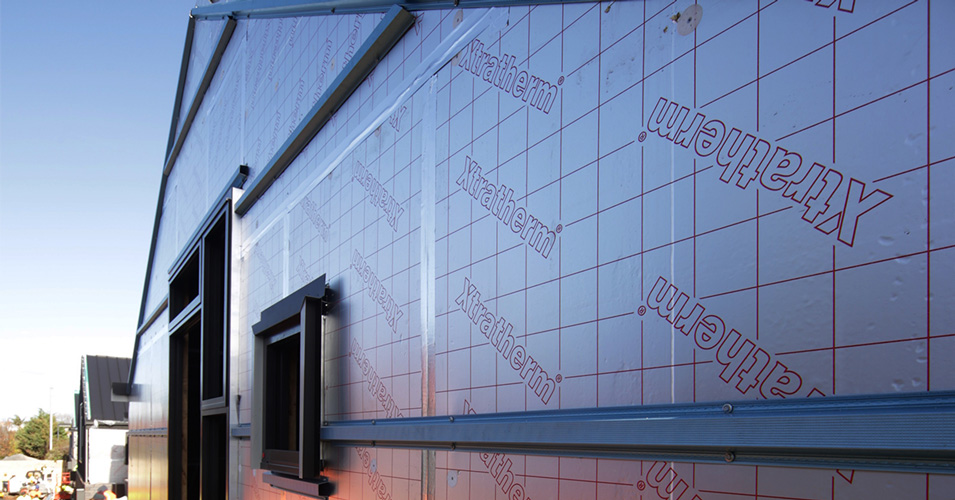 Xtratherm is the solution for dark walls
It's all about getting the wall construction right, and you only have one chance to do that – when you're building the roof or the wall. Miss that chance, and you'll be stuck with it.
Bradford technical specialists recently faced this problem when working with the team from Channel Nine's The Block. Their solution was to turn to Xtratherm Thin-R, a product normally specified on commercial buildings, to add an extra layer of continuous insulation to create a thermal break between the external wall cladding and the timber or metal wall frame of the building.
Xtratherm is a high-performance building insulation in a slim board form. It's made from an advanced foam sandwiched between two layers of reflective facing. Its high performance and slim profile and high strength makes it a great thermal barrier between heat-conducting materials like dark metal cladding and steel or timber studs.
What about the dark roofs?
Xtratherm is the solution for dark roofs
For your dark roofs, your options depend on whether you have a roof space or if you have cathedral ceilings. If you have a roof space, it's crucial to get that roof void well ventilated to let the heat out so it doesn't transmit through the ceiling via the roof framing. Bradford Ventilation's Odyssey is a perfect solution for this, a smart hybrid ventilator which vents both your roof and living spaces.
With cathedral ceilings you may consider adopting the Xtratherm Thin-R high performance insulation board installed over the roof beam framing to provide the continuous thermal break to resist the heat transfer from a dark coloured metal roof into the building. Given the roof is a big area and constantly exposed to the sun on a hot day, insulating the roof to prevent hot thermal bridging can make a dramatic difference to comfort of your home.
Get help
This kind of rigid board continuous insulation practice is standard in Europe but unfortunately, Australia lags behind in understanding the issue of thermal bridging. Talk to your designer or builder about it and free advice is available from Bradford's customer care centre at any time.