CSR Bradford's use of waste materials as a key resource
In a recent interview, Anthony Tannous, (CSR Bradford EGM) explained how recycled glass is used in our manufacturing process for glasswool insulation.

Speaking to Sky New's Smart Money program, Tannous told presenter Jon Dee that CSR Bradford uses between 25,000 - 30,000 tonnes of recycled non-heat resistant glass every year, significantly reducing the amount of waste going to landfill in Australia. Much of this recycled glass comes from glass bottles, windscreens and window glass collected from home and industrial sites across the country.

Utilising recycled glass reaps financial and energy savings in Bradford's production process. Melting waste glass requires a lower melting temperature than the alternate method of manufacturing glass from sand and basic virgin raw materials, giving Bradford energy savings to further boost sustainability practices at the factories.

CSR Bradford works in close collaboration with a local recycler, Campbelltown Recyclers, who source, crush and remove contaminants to supply to the CSR Bradford Insulation factory in Ingleburn. Tannous discloses that each one of Bradford's Insulation batts is made up of "approximately 85% recycled material." By removing all contaminants from the glass, it ensures that the waste glass is transformed into a high-quality insulation product.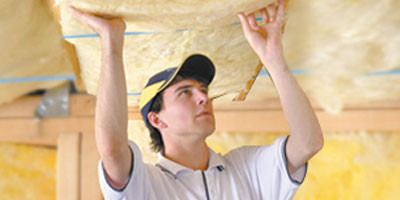 Want to get your insulation professionally measured and installed? Get a free quote now.