Bradford & Martini team up for Darling Harbour Live Theatre
Bradford and Martini acoustic, thermal & fire protection solutions feature in the transformation of Darling Harbour into a distinctive & dynamic precinct
Large project or small, new or retrofit, CSR Bradford and CSR Martini provide thermal, acoustic and fire protection solutions that exceed BCA requirements as well as delivering a comprehensive range of specialty products to support commercial projects. Bradford and Martini are both iconic brands that have been market leaders in the Australian construction industry and are part of CSR, one of Australia's most respected building materials companies.
The new Darling Harbour Live Theatre is the latest example of how Bradford and Martini are delivering effective thermal, acoustic and fire protection solutions for the new face of Sydney's western harbour. Darling Harbour is being transformed into one of the most distinctive and dynamic new waterfront, business and leisure districts in the world. It will be home to the new world class convention, exhibition and entertainment venue (ICC Sydney), a luxury 5 star hotel, and a vibrant commercial and residential urban village called Darling Square.
Scheduled to open in December 2016, ICC Sydney will be Asia Pacific's premier integrated convention, exhibition and entertainment precinct, underlining Sydney's place as one of the world's most desirable meeting and event destinations and providing the ideal platform to collaborate and innovate.
Darling Harbour Live Theatre will be part of the bigger ICC Sydney development, which will also feature new pedestrian light rail connections to link Darling Harbour and ICC Sydney to the Sydney CBD, the financial services hub at Barangaroo in the north and the creative media and IT hub in the south.
To meet the high design criteria of the new Darling Harbour Live Theatre, a selection of specialty Bradford and Martini products were used in the wall and roof applications. In particular, Martini Omega and Martini Absorb were both specified for their neutral aesthetic for wall and ceiling applications. Omegas Flametex Fabric facing provides a durable and cleanable surface in high traffic areas as well as superior sound absorption and thermal performance when combined with Bradford Acoustigard.
Martini Omega and Absorb are thermally-bonded polyester fibre acoustic insulation materials with up to 80% recycled fibre content from post-consumer PET packaging. They are odourless and are suitable for use in Green Star™ projects.
The 8,000 seat theatre will host both plenary sessions and major entertainment acts.
Theatres and venues need to be designed for high levels of acoustic performance to provide audible high quality sound to audiences. CSR Martini Absorb was selected by the audio system and acoustic designers as the best available option to provide the levels of broadband sound absorption required for world class internal sound quality. The versatility of Martini Absorb meant that it could be made in a black finish which also gave the architects and interior designers a modern aesthetic finish for the theatre walls and ceilings both at the front and back of house.
Another very important consideration for surface lining acoustic products like Martini Absorb, is that they must comply with very high standards for fire safety. All of CSR Martini materials designed for use as surface linings have been fire tested to the most stringent fire test available: AS/ISO 9705 full room corner burn test. Without exception, the Martini range has achieved a National Construction Code Group 1 classification which is the best rating achievable.
Bradford's Acoustigard partition rolls are specifically made in various densities and thicknesses to suit different cavity in-fill applications and to concurrently provide acoustic and thermal performance. Acoustigard glasswool partition rolls contain up to 65% recycled glass content and non-combustible fibre that does not add to the fuel load in the building.
In conjunction, Bradford's Fireseal Curtain Wall Batts was specified to provide passive fire protection between floors. Made from biosoluble Rockwool with remarkable resistance to shrinkage at temperatures encountered in fire conditions, Fireseal Curtain wall batts can be used to provide up to 2 hours of fire protection in a curtain wall system. To act as a fire barrier, retarding the progress of fire, smoke and heat between floors of multi-storey buildings.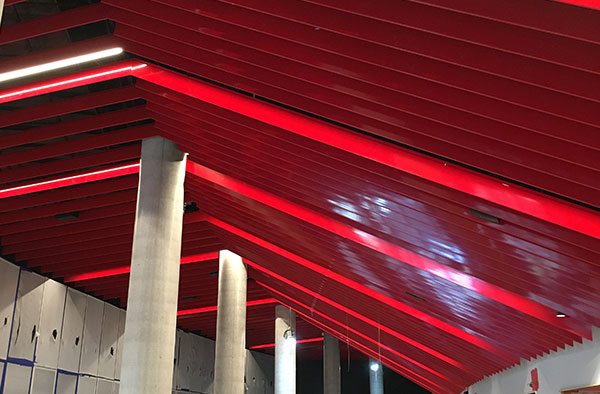 The unique roof system required an innovative solution, so Bradford and Martini were the natural choice.
The modular roof system was constructed with a unique combination of Bradford Gold Batts to provide bulk thermal and acoustic insulation between roof sheets and straw panel boards, and Martini Absorb beneath all the roof layers to provide high-performance sound absorption across a broad range of frequencies.
Bradford Gold batts are available in R-Values from R1.5 – R2.5, manufactured from glasswool, the batts are specially stiffened and treated to provide a moisture resistant insulation and deliver optimal performance in exterior cavity walls. Moreover and quite importantly, Bradford Gold wall batts are 100% bio-soluble and do not pose a health risk. Bradford is the only insulation partner of the National Asthma Council Australia's Sensitive Choice® program and is recommended by them as the better choice for people with asthma and allergies.
Martini Absorb is thermally-bonded polyester fibre insulation, made with fine fibre blends to enhance the low frequency performance over standard materials that are made only to a thickness and density specification. Available in sheets or rolls, as well as in black, grey or white; Martini Absorb is non-itch and doesn't require any protective clothing or masks during installation.
For more information and the latest development updates on Darling Harbour Live, please visit: http://www.darlingharbourlive.com.au/