Acoustic and Thermal Insulation for HVAC Ducts
Acoustic and Thermal Insulation for HVAC Ducts
Application Overview
Commercial HVAC (Heating, Ventilation and Air Conditioning) systems are typically driven by large central motors that push conditioned air to each room of a building through a complex network of metal ducts. It's within these ducts that CSR Bradford provide a high performance insulation solution that ensures the HVAC system achieves the NCC energy efficiency targets and delivers thermal and acoustic comfort to building occupants.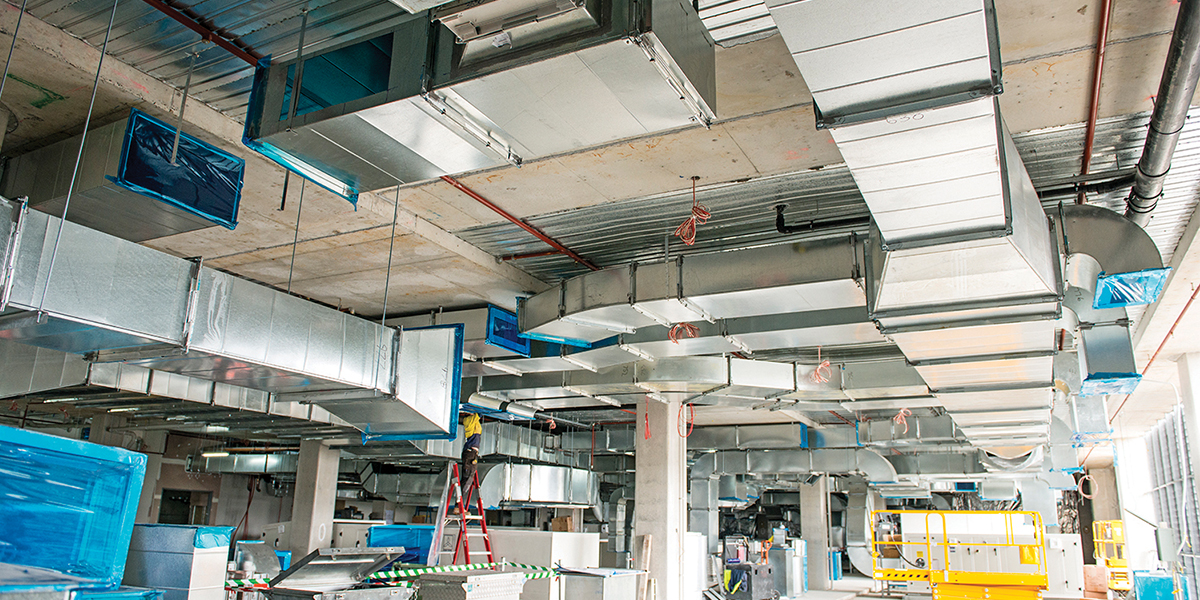 Bradford Supertel 32kg/m3 is a high performance insulation that's installed inside HVAC ducts for sound attenuation and thermal resistance. The product can be acoustically tuned with a range of factory applied facing materials such as Acoustituff and Heavy Duty Perforated Foil.
The product reduces noise from the HVAC motors travelling though the ducts into the rooms while it's thermal performance helps maintain a consistent air temperature throughout the long network of ducts.
Commercial HVAC ducts are manufactured and insulated offsite by specialised sheet metal fabricators. During the duct manufacturing process, metal pins are welded to each internal face so that the insulation can be impaled and positioned as a continuous internal lining. Metal clips secure the insulation in place and metal angles or foil HVAC tape are installed to complete corners and edges.
Metal pins welded to internal face of duct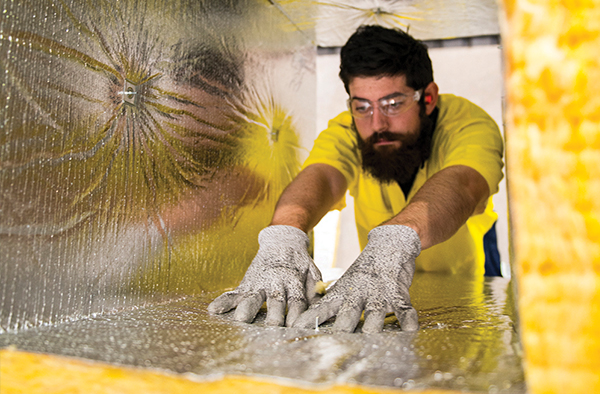 Insulation impaled through welded pins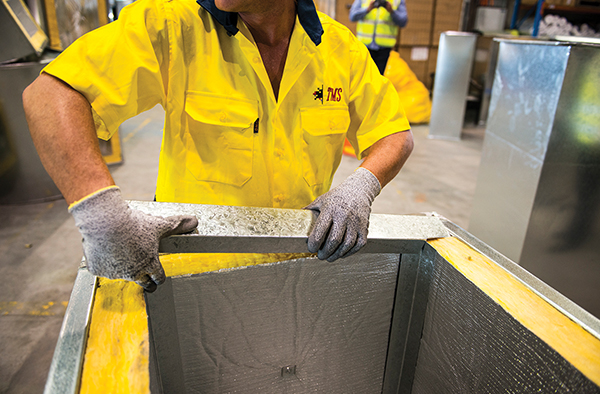 Metal angles installed to complete corners and edges
Thermal Performance
The Bradford Glasswool insulation range is often the first choice for HVAC system designers. The extensive range provides solutions for HVAC Duct Lining, HVAC Duct Lagging and HVAC Silencers. In this Case Study the featured product is Bradford Supertel (32kg/m3) and is available in the following thicknesses and R-Values:
| | | | | | | |
| --- | --- | --- | --- | --- | --- | --- |
| Supertel Thickness | 13mm | 25mm | 40mm | 50mm | 75mm | 100mm |
| Material R-Value | R0.4 | R0.8 | R1.2 | R1.5 | R2.2 | R3.0 |
Acoustic Performance
Acoustituff Facing with; Bradford Supertel 32kg/m3 75mm
Acoustituff facing provides a sealed face to the insulation material, separating it from contaminates found in some ducted air streams. Its light weight construction allows low to mid frequency to pass through it into the insulation.

Bradford Supertel 32kg/m³ 75mm Glasswool with Acoustituff foil facing NRC: 0.95 Flow Resistivity (no facing): 13,580 (Rayl/m)
Heavy Duty Perforated Facing with; Bradford Supertel 32kg/m3 75mm
The Heavy Duty Perforated facing protects the insulation material whilst maintaining the sound absorptive properties of the insulation. Its perforated construction allows a broad range of frequencies to pass through it into the insulation.
Bradford Supertel 32kg/m³ 75mm Glasswool with Heavy Duty Perforated foil facing NRC: 1.10 Flow Resistivity (no facing): 13,580 (Rayl/m)
---
Bradford Glasswool Manufacturing
Bradford manufactures to strict product tolerances and provides the most comprehensive warranty in the market and is backed by CSR, Australia's oldest and most trusted building products manufacturer.
Technical Project Support
The DesignSmart team has a wealth of construction experience and utilise industry-leading building science research for acoustic, thermal and fire insulation products. As the experts in building insulation they can assist with:
project-specific support
value engineering challenges
specification documentation
system design detailing
product installation and certification
Publication: 6/03/2018
Information is based on the version of the National Construction Code (NCC) which was current at the time of publication. There may be changes in subsequent versions of the code which mean parts of this case study no longer apply.

Whilst every precaution has been taken to ensure that the content in this case study is both current and accurate at time of publication, CSR is not responsible or liable for any errors, omissions or for any consequences arising from the use of this case study. The information in the case study is general in nature and has solely been prepared for marketing purposes and should not be interpreted as specific advice for a project or product application. In all cases, the reader should seek professional, project specific advice prior to making design or product decisions.