CSR Bradford keeps things quiet and comfortable on the rotating home front
CSR Bradford keeps things quiet and comfortable on the rotating home front.
CSR Bradford Insulation products were installed in the construction of a state-of-the-art rotating house built in the hinterland of the Manning Valley, New South Wales.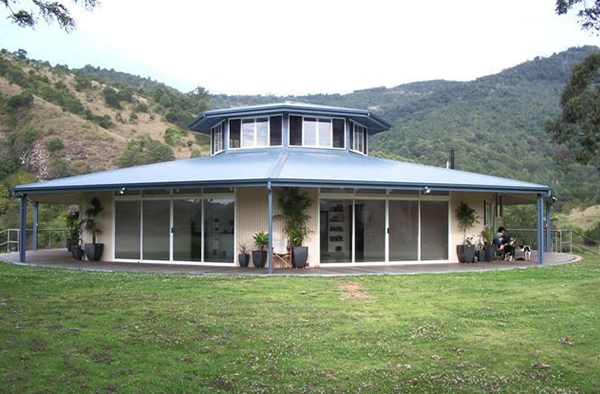 House Exterior
Owner, Luke Everingham, wished to create an exciting, unique and affordable new house which rotated 360 degrees. After nearly a decade of research, planning and design, the house was built in 18 months and completed mid 2005.
The house is a 24 metre diameter octagon with a three metre, 360 degree verandah. The exterior walls are mostly glass and steel with a corrugated iron roof. The entire house, weight approximately 50 tonnes, rotates up to 360 degrees and this function can be activated when rotation is desired.
House Interior
CSR Bradford products including Bradford Gold ceiling batts, SoundScreen and Anticon were used in the insulation of the home. Luke Everingham chose this combination of products because of their high quality and suitability in creating a comfortable and quiet environment for the rotating home.
Luke says: "We felt Bradford Gold would be appropriate for the insulation of the ceiling areas due to its ability to keep homes up to 10 degrees warmer in winter and 7 degrees cooler in summer. SoundScreen was chosen for the external walls and internal walls to assist in keeping noise transfer between rooms to a minimum.
"In addition, Anticon was an obvious choice given that it is a roofing blanket specifically designed for use with metal roofs. We were drawn to this product due to its many benefits some of which include: improving thermal insulation, preventing condensation forming under the roof, and providing fire retardant capabilities."
Luke says: "We are extremely impressed with the result and will be sure to use CSR Bradford products in any future construction of rotating homes."
Given the success and interest in the rotating home, Luke intends to build more rotating homes for other Australians. Luke has set up a website which can be visited at: www.everinghamrotatinghouse.com.au.