Condensation Management Changes to NCC2019 Volume 1 & Volume 2
Make Sure You're Compliant
WHAT IS THE CHANGE?
On the 1st of May 2019, the National Construction Code will introduce a new section titled 'Condensation Management' which includes an important change to the selection of wall wrap.
The change will effect all Building Permits approved after the 1st of May 2019. All Building Permits approved using NCC2016 will not be affected by this change, and may use the wall wrap included in the original specification.
The NCC changes to Volume 1 Part F6.2 and Volume 2 Part 3.8.7.2 will state that if a wall wrap with water barrier properties is installed onto an external wall frame in BCA Climate Zone 6, 7 & 8, it is required to be vapour permeable. It will also be mandatory to install all water barrier membranes in accordance with AS 4200.2 in all climate zones.
NCC2019 Reference
Pliable building membrane
(a) Where a pliable building membrane is installed in an external wall, it must—
(i) comply with AS/NZS 4200.1; and
(ii) be installed in accordance with AS 4200.2; and
(iii) be a vapour permeable membrane for climate zones 6, 7 and 8; and
(iv) be located on the exterior side of the primary insulation layer of wall assemblies that form the external envelope of a building.
(b) Except for single skin masonry and single skin concrete, where a pliable building membrane is not installed in an external wall, the primary water control layer must be separated from water sensitive materials by a drained cavity.
WHAT DOES IT MEAN FOR YOU AND YOUR STATE?
A detailed summary of the affected municipalities are shown by BCA Climate Zone in the following download. In summary any Building Permits for Class 1, 2 and 4 buildings approved after the 1st of May 2019 that include a pliable building membrane on the external wall frame, that membrane must be vapour permeable in climate zones 6/7/8.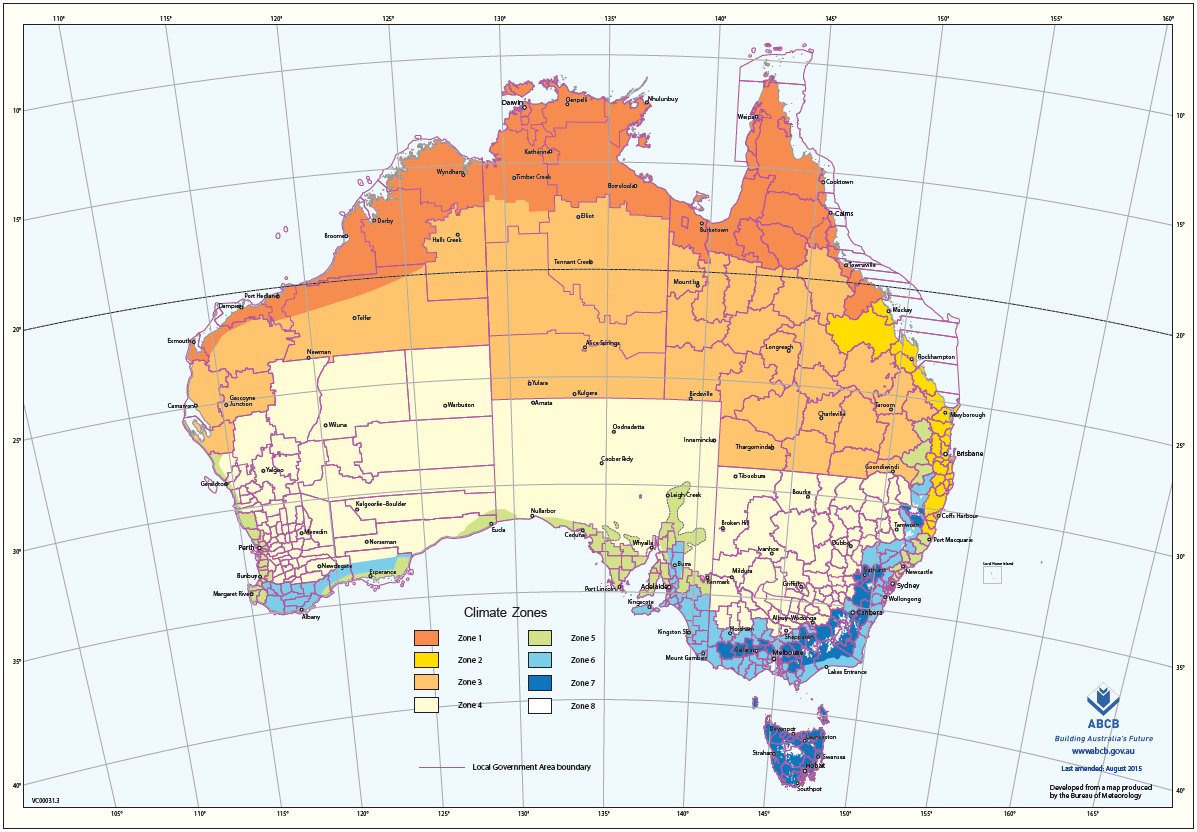 Please keep in mind it is necessary to understand that the NCC 2019 Definitions appendix states that Pliable building membrane means a water barrier as classified by AS/NZS 4200.1. This means that new condensation clause only applies to water barrier membranes and a sarking classified as a non-water barrier (or a perforated breather foil) may still be installed onto the external wall frame provided there is a drained cavity.
NCC 2019 Condensation Management – How To Interpret the Clause
BCA Climate Zone Map – State Breakdown
For more information regarding this change to the National Construction Code, please feel free to contact your Bradford Account Manager or our National Call Centre directly on 1300 760 233.
Additionally a full range of Bradford Enviroseal Vapour Permeable wall wraps can be found by clicking here.