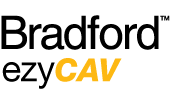 High performance cavity wall insulation blanket
BCA Compliant in accordance with AS4773.2 when used with 50mm cavity.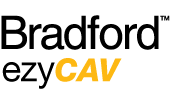 EzyCAV Cavity Wall Blanket
Bradford EzyCAV™ Cavity Wall Blanket is a pliable, composite insulation membrane which provides a cost effective and efficient solution to insulating cavity brick walls using a single air-space without the need for assembly of a spacer. It has been specifically designed to assist builders and designers achieve 6 star energy ratings in homes with cavity brick walls or where space is at a premium.

Overview

EzyCAV provides a repeatable installed R-Value in these applications to assist builders and designers to achieve six (6) star energy ratings by eliminating the difficulties in constructing parallel twin air-spaces.

Constructed from a flexible 15mm high density insulation core which provides a material R-Value of RM0.45, EzyCAV also generated an additional reflective air-gap R-Value when positioned adjacent to a still cavity. The inward facing side of the product is faced with a tough polymeric woven fabric with an antiglare reflective foil with tiny perforations, which allows water vapour permeance.

The outward facing of the product is faced with a neutral coloured polymeric woven fabric for strength and glare reduction. These facings are continuously sealed together along one edge of the blanket to form a 150mm edge lap for ease of handling and taping during installation.

Latest design - easy to build single air cavity

Assists in achieving 6 star energy efficiency compliance
Easy to position on one side of the brick cavity with no spacers, which means reliable performance from one air space
High material R-Value of RM0.45 from only 15mm of material
BCA Deemed to Satisfy compliance in accordance with BCA clause 3.3.2.0 referencing the Masonry in Small Buildings AS4773.2 requirement to allow a 35mm unobstructed cavity, when installed in a typical 50mm (or greater) cavity construction