Safebridge Roof Purlin System
Safebridge utilises the depth of the purlins to provide a cavity for the insulation to recover to its design thickness, without raising the roof line.

Safebridge Roof Purlin System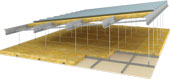 Safebridge on pitched roof with ceiling. Create spec at
DesignSmart
.
Safebridge® is an innovative roofing system that incorporates BCA compliance as well as safety into an integrated system developed through the cooperation of Metroll, Bradford Insulation, Australian Mesh, Buildex and Safebridge. The system provides a user friendly, cost effective and aesthetically pleasing design solution, which during the roof fabrication stage offers an improved level of safety to workers.